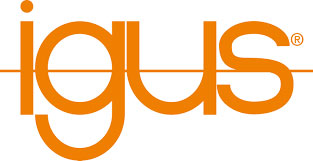 igus® GmbH
Contact - igus® GmbH
Spicher Str. 1a
51147 Köln
Germany
Send a message - igus® GmbH
Legal information - igus® GmbH
| | |
| --- | --- |
| Nature | Head Office |
| Year established | 1964 |
| Legal form | Gesellschaft mit beschränkter Haftung |
| Describe your Company and attract Business opportunities (NAC08) | Manufacture of plastic packing goods (2222) |
| Corporate capital | 750,000 EUR |
| Handelsregister | HRB 27158 Köln |
| Firmenbuchnummer | HRB 27158 Köln |
| VAT no | DE121976915 |
| No employees | 250-499 Employees |
| Kompass ID? | DE605464 |
| Kompass member for | + 6 years |
| Membership | Booster International |
Presentation - igus® GmbH
Lifetime up - costs down.

No lubrication and reducing maintenance work, lowering costs and increasing service life, everything from stock and delivered quickly - this is the core idea and that is the objective of all igus® products, systems and Services

Energy chains / cable drag chains / e-chains / energy pipes / cable tubing / chain / cable drag chain / control cable / bus cables / Ethernet cable / robot cable / drive cable / data cable / coaxial cable / servo cable / motor cable / Twistable cables / bearings / plastic bearings / bearing bushes / plastic semi-finished products / axial bearing / spindle / actuator / linear axis / linear guides / linear table / slide guide / linear bearing / joint bearing / Plummer block / clevis / spherical spherical / rod ends / flange bearing / axial bearings /

igus® plastics with their tested properties in durability, friction and stability are the main focus of the igus® products.
We offer you 100,000 products from stock and from \"batch size One\".
News - igus® GmbH
Previous news
Press release

Moving energy made smart: smart plastics

Date:

Contact details info@igus.de

Intelligent smart plastics as active shapers of smart factories

As a manufacturer and supplier of plastic components such as energy chains, cables and bearings, igus is also going through a digital development process and is increasingly orienting its products towards use in smart factories. The aim is to make the maintenance and repair of its plastics more efficient and cost-effective. Thanks to the newly developed isense products from igus, maintenance and repair are not only being focused on more intensively in industrial production; they also profit from digitisation and its advantages as do all other areas of production.

New product

robolink® 4 or 5-axis robot arm with and without integrated control system: RL-DP

Payload up to 30N
Cycle times > 6s
Reach up to 790mm
Also available as DPI version with integrated control system
With motor encoders upon request
Version with drive encoders possible
Available as 4 DOF or 5 DOF (degrees of freedom)
Optimised bearing support of the single axes for less
backlash

New product

E4Q/R4Q system – the latest generation of e-chains®

E4Q/R4Q is designed to provide the best possible solution for unsupported lengths and long travels. In addition to insights from worldwide applications with the E4.1 series and the resulting optimisation, competitive analysis and customer surveys have been conducted to make the energy chain better, more cable-friendly, easier to assemble and operate, and optionally quieter.

Typical application areas: applications with large unsupported lengths, high fill weights and long travels

Organize an event

Experience the world of smart and digital automation!

Date:

Location: Nuremberg, Germany

Experience the world of smart and digital automation! No matter for which question, no matter for which challenge - at SPS IPC Drives you will find tailor-made solutions and decisive impulses. Join us in Nuremberg from 27 – 29 November 2018 and experience the production of tomorrow.

Organize an event

Welcome to Fakuma!

Date:

Location: Friedrichshafen, Germany

More than 1800 exhibitors will present their international offerings on the world's leading technical event for industrial plastics processing. Fakuma will take place in Friedrichshafen Exhibition Centre from 16 to 20 October 2018.
Attention will be focused on the latest technologies which promise highly advantageous benefits, as well as processes and tools for efficient plastics processing by means of injection moulding, extrusion, thermoforming and 3D printing.

Organize an event

International trade fair for automation in production and assembly

Date:

Location: Stuttgart

The international trade fair Motek, which takes place in Stuttgart from 08.10.2018 – 11.10.2018, is the world's leading event in the fields of production and assembly automation, feed technology and material flow, streamlining through handling technology, and industrial handling. As such, Motek is the only trade fair to clearly focus on all aspects of mechanical engineering and automation and on the presentation of entire process chains.
The consistent target-group orientation is one of Motek's secrets of success. Focal target groups include automotive, machinery and equipment manufacturing, the electrical and electronics industries, medical engineering and solar production, as well as metal and plastic processing companies in general and their suppliers.
More news
General Information - igus® GmbH
Certifications
| | |
| --- | --- |
| Type: | ISO 9001:2008 |
| Type: | ISO/TS 16949:2009 |
Brands - igus® GmbH
Previous brands
igus®

igus® ist Weltmarktführer für Gleitlager und Energieketten aus tribooptimierten Kunststoffen und mit eigenen Niederlassungen in 35 Ländern vertreten.


igus® - plastics for longer life®

Hochleistungskunststoffe für Anwendungen in Bewegung erhöhen Lebensdauer und reduzieren Kosten.


e-kettensysteme®

Energieketten bzw. Schleppketten besorgen die Zuführung von Energie, Daten und Impulsen und sind dabei ständig in Bewegung.


e-chain®

Langlebige Energieketten für Ihre Anwendung.


energy chain®

Ausfallzeiten reduzieren und Lebensdauer von Leitungen und Schläuchen erhöhen.


chainflex®

Spezielle Leitungen für Energieketten - getestet. 950 Typen ab Lager.


ReadyChains®

Konfektionierte Energieführungssysteme, Stecker und Leitungen von igus®.


ReadyCable®

Konfektionierte Antriebsleitungen für Energieketten sind Leitungen für Biegradien ab 7,5xd. Die konfektionierte Antriebsleitungen werden mit vielen Millionen Zyklen in E-Ketten® getestet.


iglidur®

Gleitlager aus Hochleistungskunststoffen.


xirodur®

Hochleistungskunststoff, Hochleistungspolymer.


igubal®

igubal® ist ein System von selbsteinstellenden Lagerelementen, die vollständig aus Kunststoff gefertigt sind.


DryLin®

DryLin®-Lineargleitlager arbeiten, im Unterschied zu den bekannten Kugelumlaufsystemen, auf Gleitelementen.


twisterchain®

Energieführungssystem für kreisförmige & spiralförmige Bewegungen.


FLIZZ®

Kunststoff-Kabelkanal mit Einhausung, Komplettsystem.


easy chain®

Schnell von innen oder außen befüllbare, kostengünstige einteilige Energieketten.


triflex®

3D-E-Kette® speziell für Roboter-Anwendungen.


pikchain®

Förderkette für intelligente Pick&Place-Lösungen.


xiros®

xiros®-Polymerkugellager: wartungsfreier Trockenlauf durch die Verwendung der xirodur®-Hochleistungspolymere.


robolink®

robolink® Robotikkomponenten zeichnen sich durch ihre Modularität aus. Als Baukastensystem lässt sich ein Roboterarm nach Wunsch konfigurieren oder als sofort einsatzbereites Komplettsystem beziehen.


CFRIP®

50% Zeitersparnis beim Abmanteln von chainflex®-Leitungen.

More brands
Contact people - igus® GmbH
Frank Blase
CEO - Chief Executive Officer (Geschäftsführung)
Herr Christoph Müller ppa.
Admin/Finance Director/Manager (Prokurist Leiter Finanzen und Controlling)
Herr Harald Nehring ppa.
Commercial Director/Manager (Prokurist Leiter Branchenmanagement)
Herr Gerhard Baus ppa.
Commercial Director/Manager (Prokurist New Businesses Development)
Herr Jan-Marinus Alberts
Purchasing Director/Manager (Einkaufsleitung)
Herr Guido Lopes
Sales Director/Manager (Vertriebsleiter Deutschland e-kettensysteme®)
Herr Michael Offner
Sales Director/Manager (Vertriebsleitung Süddeutschland e-kettensysteme®)
Herr Tobias Vogel
Subsidiary Director/Manager (Leiter Geschäftsbereich iglidur® Gleitlager & drylin® Lineartechnik)
Herr René Achnitz
Subsidiary Director/Manager (Leiter Geschäftsbereich iglidur® Gleitlager)
Herr Thomas Preißner
Subsidiary Director/Manager (Leiter Geschäftsbereich igubal® Gelenklager)
Herr Stefan Niermann
Subsidiary Director/Manager (Leiter Geschäftsbereich drylin® Lineartechnik)
Herr Christian Stremlau
Subsidiary Director/Manager (Leiter Geschäftsbereich readychain® & readycable®)
Herr Rainer Rössel
Subsidiary Director/Manager (Leiter Geschäftsbereich chainflex® Leitungen)
Opening hours - igus® GmbH
Activities - igus® GmbH
Producer
Distributor
Service provider
Main activities within the Kompass classification
Secondary activities within the Kompass classification
Other classifications (for some countries)
NACE Rev.2 (EU 2008) : Manufacture of plastic packing goods (2222)
WZ (DE 2008) : (0222)
ISIC 4 (WORLD) : Manufacture of plastics products (2220)