Contact - Maschinenfabrik Berthold Hermle AG
Industriestraße 8 - 12
78559 Gosheim
Germany
Ask for Info - Maschinenfabrik Berthold Hermle AG
Legal information - Maschinenfabrik Berthold Hermle AG
| | |
| --- | --- |
| Nature | Headquarters |
| Year established | 1938 |
| Legal form | Aktiengesellschaft |
| Describe your Company and attract Business opportunities (WZ08) | Großhandel mit Werkzeugmaschinen (46620) |
| Handelsregister | Stuttgart Registernummer: HRB 460 397 |
| VAT no | DE142929574 |
| No employees | 1250 Employees |
| Kompass ID? | DE602679 |
| Kompass member for | + 7 years |
| Membership | Booster International |
Presentation - Maschinenfabrik Berthold Hermle AG
Maschinenfabrik Berthold Hermle AG is a German listed company with its head office in Gosheim in the district of Tuttlingen and is one of the leading manufacturers of milling machines.

Globally there are more than 27000 machines in use, mainly at suppliers of medical technology, in the optical industry, in aviation, in the automotive industry and in motor sport.
The most important components are developed and manufactured in Gosheim. Hermle's universal milling machines and machining centres are used for the machining of tools, moulds and series-produced parts.

Hermle produces small to medium-sized three to five-axis milling centres for a wide range of applications.
Even machines for applications with increased demands on precision or machining volumes are manufactured. The different machine models are available with magazine extensions and a pallet changer. Furthermore, various handling systems are offered directly from the manufacturer.

Hermle is all about milling and achieving outstanding results.
This is clearly demonstrated by the slogan "milling at its best". It stands for high-performance, highly innovative machining centres which have risen to a leading position nationally and internationally. It stands for a far-reaching and closely meshed sales and service network and for a worldwide presence.
Company catalogues - Maschinenfabrik Berthold Hermle AG
Product Overview Hermle AG (English)
12 pages
Automation Overview Hermle AG (English)
12 pages
Company's Videos - Maschinenfabrik Berthold Hermle AG
General Information - Maschinenfabrik Berthold Hermle AG
Herr Günther Beck
Director
Herr Franz-Xaver Bernhard
Director
Herr Benedikt Hermle
Director
News - Maschinenfabrik Berthold Hermle AG
New product
Additive machining at supersonic speed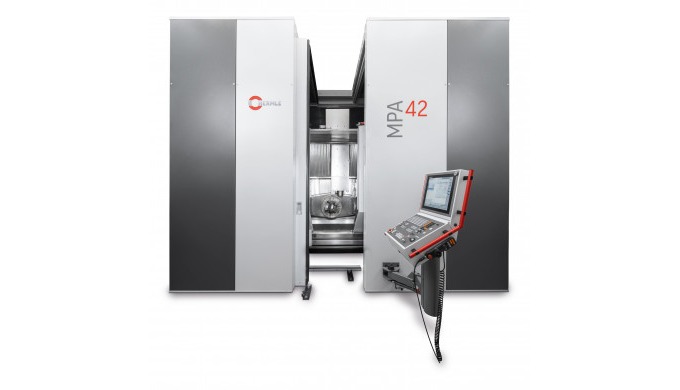 Date: 5 March, 2021 11:00 AM
The new machining centre MPA 42 is powerful and precise but it is not for sale. When it comes to additive manufacturing, Hermle acts as a service provider. Hermle knows what mould makers want – short cycle times and high-quality parts –, and how to give it to them.

What happens in the new Hermle MPA 42 seems to be paradox at first: The blanks leave the working area of the cutting machine with a mass volume that has not become smaller but significantly larger. The name "MPA" indicates how this feat is achieved: It stands for Metal-Powder-Application, a process developed and launched on the market by Hermle about seven years ago. The new generation of machines significantly increases the precision and speed of the generative manufacturing process.

The new MPA 42 runs in the Ottobrunn premises of Hermle Maschinenbau GmbH (HMG). Since 2009, the wholly owned subsidiary of Maschinenfabrik Berthold Hermle AG has been operating from its Bavarian outpost, developing over the years into a service provider for additive manufacturing. Managing Director Rudolf Derntl opens the doors of the soundproofing enclosure of the MPA 42 which houses a heavily modified 5-axis machining centre of type C 42 U. Next to the spindle, a nozzle projects into the working area but no cooling lubricant spraying device is to be seen. "The de Laval nozzle accelerates the powder and deposits it directly on the clamped metal blank," Derntl explains.

Super-heated steam and nitrogen combined with the geometry of the nozzle accelerate the powder to supersonic speed, deforming the metal particles and allowing them to bond on impacting the substrate. In the rear section of the unit, a steam generator and five powder conveyors are mounted. All application materials and blanks must have the same tensile properties: "Since the application principle is plastic deformation, it works with a large variety of metals. It follows that the surface of the semifinished products must be ductile as well," the Managing Director points out. In addition to the hot and cold forming steels with high carbon content, copper and Ampcoloy are used.

Material mix for injection moulds

Copper dissipates heat much faster than the processed tool steels. For this reason, materials in which steel is combined with copper have a decisive advantage when building injection moulds: "With additive manufacturing, we deposit copper on those parts of the tool where there is no room for cooling ducts. In the injection moulding process, the copper core dissipates the heat to the closest cooling duct much faster than steel. This not only saves the owner valuable seconds of cooling time but also improves the surface quality of the plastic parts," Derntl says.

The five axes of the machining centre permit the powder jet to be directed at the part at almost any angle, and thereby provide maximum design freedom. With this technology, cooling ducts can be applied directly to the curved surfaces of a blank. Thus, also larger injection moulds can be equipped with conformal cooling without having to build up the entire part via additive manufacturing. The working area of the C 42 U defines the limits: "Depending on their geometry, the width and lengths of parts for the additive process is limited to 600 millimetres. But usually the parts are smaller," Derntl points out. The machine is also ideal for manufacturing cylindrical or conical parts such as cooled pre-chamber nozzles. By material application to the rotating part, pockets and ducts are filled efficiently and then closed with tool steel.

In addition to implementing efficient cooling, the MPA process is suitable for other fascinating applications. Many materials are compacted by the impact in such a way that the surfaces of the parts can be polished to a high gloss without any problems. Accordingly, HMG meets the highest demands in injection moulds.

With the MPA process, also functional elements such as heating wires or cavity temperature monitoring sensors can be embedded in steel or copper and thus integrated into the tool – perfect for vario-thermal temperature control. The MPA technology also pays off for other applications than injection moulding. "Take for example a glue nozzle with integrated heating elements: With a sensor in the tool, the adhesives retain their perfect application temperature over the entire width of the nozzle. Actual temperature control can be realized in this way", Rudolf Derntl explains.

Knowing which material combinations make sense, how to implement cooling ducts and functional elements with best results, and how to design one-piece moulds: this is where HMG excels. "We do not sell machines but know-how," the Managing Director states. The Ottobrunn team advises mould designers, builds up on 3D models, and uses cooling ducts, functional elements or multi-material combinations to optimise the injection moulded parts which will be manufactured with this mould. "We are looking at reduced cycle times and improved parts qualities which would be difficult to achieve using other technologies," Derntl says.

Software for application and milling

The application engineers generate the code for the control using their own CAM software. It defines not only the movements but also the powder quantities, temperatures, and the alternating between material build-up and milling. "Since no CAD/CAM manufacturer was able to map the particular alternating process – milling, building up, milling –, we wrote our own software. As an extra benefit, we can now promptly accommodate special requests by customers," the Managing Director says. The experts sit right next door.

Once the preparations are completed, the customer sends their blank to HMG. "In 95% of cases, we use a semifinished part prepared by the customer on their own milling machine," customer consultant Oliver Müller explains. The part arrives in Ottobrunn already with pre-milled cooling ducts or pockets. The HMG team checks the blank for dimensional accuracy and compliance with the design specifications. "The pockets must be free of bevels, for example. For powder application, we need sharp edges," Müller says.

Now the heat comes on

Before starting the process, the part is heated up to approximately 300 degrees Celsius in the heating station. Even though the process involves no welding, it requires high temperatures: Substrate and metal powder must be heated for better tensile properties. Steam provides the energy to accelerate the powder. As both components pass the nozzle, the powder reaches the supersonic speed the process needs. To keep the temperature constant during machining, the MPA 42 continues heating the part until the last chip is removed. "In this way, we prevent temperature gradients causing tension, tearing or distortion," Rudolf Derntl clarifies.

Material application and removal alternate during the manufacturing process. After application of the powder, details such as fine fins are milled into the new material, cooling ducts are filled with a water-soluble metal material and closed with a layer of steel by means of a MPA process. "Later on, we flush the filling material out in a water bath to get the desired cavities," Müller explains. The powder jets can implement build-up rates of 200 to 400 cubic centimetres per hour, and with copper even close to 1,000 cubic centimetres.

"With the new machine, we are up to date and raise our MPA technology to the next level. It is the core of our service portfolio," the Managing Director says. Mirroring all processes in-house is a priority for him, from counselling over optimisation, feasibility check and material examination up to the final quality inspection. "This makes us pro-active and protects our own know-how and that of our customers."

Hermle Maschinenbau GmbH is based in Ottobrunn near Munich. It is an affiliate of Maschinenfabrik Berthold Hermle AG. The company focuses on basic research and development of new technologies in the field of generative manufacturing. For several years, we have also been offering extensive manufacturing capacities for the production of large-volume parts using our patented MPA process. This is an exclusive service for Hermle customers.
Press release
Hermle USA has invested USD 3 million to extend its US headquarters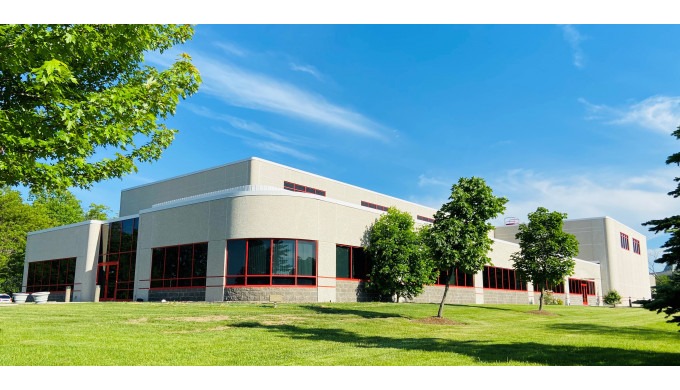 Date: 20 November, 2020 12:00 AM
Milwaukee, WI – Hermle USA, Inc. announced the completion of the three million dollar building extension project. This doubled the size of the North American headquarters in Franklin, Wisconsin and included refurbishment of the existing building. The expansion represents a clear sign from the German machine tool manufacturer that it is willing to raise its profile to provide even better levels of support to the growing North American customer base.

Benedikt Hermle, Maschinenfabrik Berthold Hermle AG Board Member, puts it this way: "By expanding our US subsidiary we can achieve further optimization of our customer service on the North American market. We are proud to be able to provide even better support to our North American customers in the production of their high-quality products."

The addition of around 700 square metres of space will allow Hermle to extend and optimize its North American operations. The new buildings comprise a cutting-edge Technology and Innovation Center, an independent training and instruction facility, additional storage space including a logistics centre as well as 'Verweilzeit USA', a tailor-made hospitality area for customers.

"This investment allows us to elaborate application processes together with our customers and partners. Also, we are now even better placed to demonstrate the software tools developed by Hermle that improve our customers' efficiency levels," says Gunther Schnitzer, Co-President and Chief Technology Officer of Hermle USA. "We are looking forward to inviting our customers to visit our completely renovated Technology and Innovation Center with space for up to eight machining centre including automation solutions, and finding answers to customers' queries."

The new storage facilities provide a larger, dedicated space for storing spare parts and accessories. This enables the Hermle support team to dispatch the parts to the customers throughout North America as required and even faster than before.

This expansion project is also coupled with Hermle's mission to alleviate the prevailing shortage of skilled workers in the region. A state-of-the-art training centre has been included to provide apprentices and service technicians with comprehensive and practically oriented vocational training. The company is a leading member of the Industry Consortium for Advanced Technical Training (ICATT) that was inaugurated by the German American Chamber of International Commerce for the Midwest. ICATT promotes a German-style dual apprenticeship system.

"The Hermle brand with its reputation for outstanding machine quality and a high degree of team competence has been attracting steadily more attention on the North American market over the past 10 years," says Manuel Merkt, Co-President and Chief Operations Officer. "Even during the most difficult periods experienced by our society and economy, we continue to invest in tomorrow so as to be able to offer our North American customers added value. This investment enables us, the Hermle brand represented by the North American team, to grow and provide local support to our customers here.

About Hermle USA Inc.
Hermle USA Inc., headquartered in Franklin, WI, is the North American headquarters of Maschinenfabrik Berthold Hermle AG, Gosheim. Hermle USA Inc. has been supplying North American manufacturing companies from very diverse sectors with high-precision machines, production solutions, application support as well as customer training and service since 1987.
Location - Maschinenfabrik Berthold Hermle AG
Other addresses
Visit address
Industriestraße 8 - 12
Postfach 1240
78559 Gosheim
Germany
Postal address
Postfach 1240
78556 Gosheim
Germany
Opening hours - Maschinenfabrik Berthold Hermle AG
Key figures - Maschinenfabrik Berthold Hermle AG
Activities - Maschinenfabrik Berthold Hermle AG
Producer
Distributor
Service provider
Main activities within the Kompass classification
Other classifications (for some countries)
WZ (DE 2008) : Großhandel mit Werkzeugmaschinen (46620)
NACE Rev.2 (EU 2008) : Wholesale of machine tools (4662)
ISIC 4 (WORLD) : Wholesale of other machinery and equipment (4659)
Secondary activities within the Kompass classification