Participate in an event
Korea Shipbuilding & Offshore Online Trade Show (KOMTS) K193 booth always operated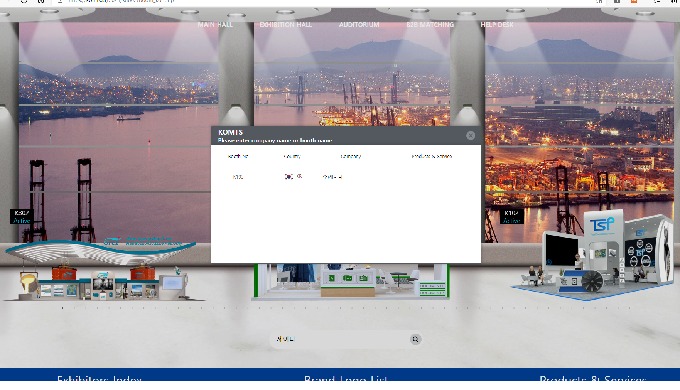 Start date: 18 June, 2022 12:00 AM
End date: 20 June, 2022 3:00 AM
○ 2021 Korea Shipbuilding & Marine Online Trade Show (KOMTS)
〮 Period: June 18, 2021 - July 02, 2021
〮 Venue: Online
〮 Exhibition scale: 153 companies from 70 countries participated / about 350,000 visitors

- By participating in the Korean shipbuilding and marine online trade exhibition, we have established a long-term overseas export platform with partners from around the world, such as overseas buyers and shipowners.
- Exhibiting products through a company-customized digital virtual booth that is differentiated from offline, inducing improvement in corporate awareness and preference of potential customers, global business partners.
- Through direct communication with overseas buyers through the B2B matching program, as a domestic shipbuilding and offshore company, we develop overseas markets and lay the foundation for trading.

- Product exhibited at the event
<Multipurpose Water Drone>
〮 Self-recovery in case of overturn
〮 Temperature/salinity measurement
〮 Video shooting/transmission
〮 Remote control and autonomous driving function
〮 Real-time ocean information observation possible

- A multi-purpose water drone that can self-restore the state in case of capsize in an unstable marine environment, and can observe weather and ocean information in real time through temperature/salinity measurement,
video recording/transmission, remote control, and autonomous driving functions.
- Even if the hull capsizes, it can be restored, and there is no risk of loss even in a severe marine environment, so it can be operated at all times.

<S/W-MARERP for shipbuilding industry>



- A quantity management program that applies the shipbuilding industry standard process that can manage complex processes and various quantities in an integrated way.
- Development of quantity and purchase management functions based on design drawings according to the shipbuilding industry classification system.
- Establishment of quantity management function optimized for the shipbuilding industry, input resource management function, and data management system by ship
type and ship type.
- Improvement of the existing manual-based quantity and purchase management system by linking the design program with the company's own purchase management
program.
- Reduced program introduction cost by establishing only core functions of shipbuilding.