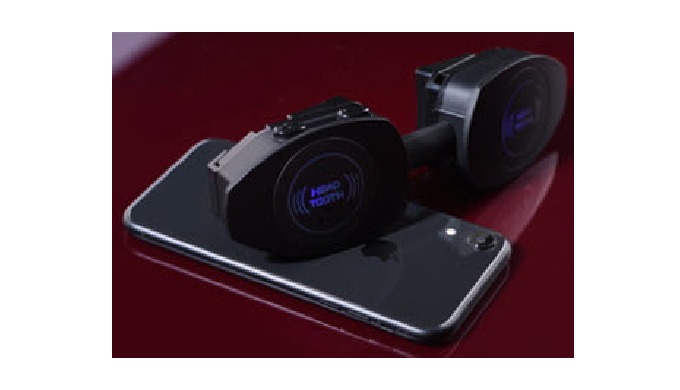 [Yeil Electronics]

'HEADTOOTH™' is based on the Bone Conduction Speaker technology.
The fresh idea behind applying HEADTOOTH™ is applying bone conduction (enabling sound transmission without touching your ears) to ornaments such as sunglasses, glasses, hearing aids, bracelets, watches and hats.

With B
Description of the Product
[Yeil Electronics]

'HEADTOOTH™' is based on the Bone Conduction Speaker technology.
The fresh idea behind applying HEADTOOTH™ is applying bone conduction (enabling sound transmission without touching your ears) to ornaments such as sunglasses, glasses, hearing aids, bracelets, watches and hats.

With Bluetooth audio system, it's a device that responds to the music and phone reception.
from Smartphone the latest Bluetooth 5.0 It designed for any helmets such as motorcycle, bicycle, Ski.... adopted the highest qualified speakers.

"HEADTOOTH™", a Bluetooth headset, will open a paradigm shift in real life with a new sound transmission method that has never been experienced before, unlike a regular headset that can only be used for motorcycle riding. To maximize the convenience of life, it uses Bluetooth 5.0's features for supporting not only basic functions (e.g. listening to music or talking on the phone) but also other special functions (e.g. business meetings and camping with loved ones).

It was initially developed for the purpose of helping the rider with his/her work on the move. However, through its repeated evolution and continuous performance improvement, it has finally become a 3D sound system that can express the depth of sound and the fineness of the beat.

'HEADTOOTH™' based on bone conduction technology are designed in such a way that two large oscillators with a diameter of 20 mm are used for transmitting stereo sound to the entire helmet. Thus, the system can add excitement and fun to your experience.

Price of the Product
Price not indicated
Category of the Product