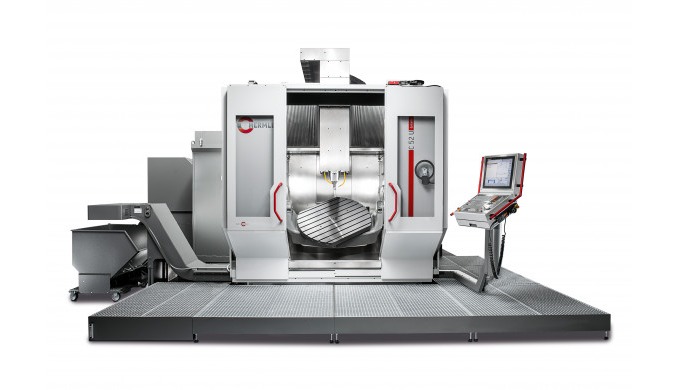 The C 52 is intended for the simultaneous 5-axis machining of workpieces weighing up to 2000 kg - with unbeatable accuracy and precision. Parameters that always represent a challenge for the machine dynamics. Hermle has overcome these challenges by developing and designing a precise and high-performance machining centre. The C 52 is the successor o
Description of the Product
The C 52 is intended for the simultaneous 5-axis machining of workpieces weighing up to 2000 kg - with unbeatable accuracy and precision. Parameters that always represent a challenge for the machine dynamics. Hermle has overcome these challenges by developing and designing a precise and high-performance machining centre. The C 52 is the successor of the extremely successful C 50.
The C 52 machining centre: A flexible all-rounder with a large working area and minimum footprint. The tool magazine of the C 52 is also integrated and can be extended to 270 pockets using an additional magazine.

The C 52 sets new standards: These standards are particularly valued in demanding applications, for instance in the medical, aerospace and automotive industries. In short: wherever the highest precision and maximum efficiency are required.

Milling and turning in one clamping - the MT series with the model C 52 U MT dynamic.
Price of the Product
Price not indicated
Technical Details
Traverse X-axis : 1000 mm
Traverse Y-axis : 1100 mm
Traverse Z-axis : 750 mm
Rapid linear traverses X-Y-Z : 60-60-55 m/min
Linear feed force X-Y-Z : 16000 N
Max. vertical table clearance : 950 mm
Max. workpiece diameter : Ø 1000 mm
Max. workpiece height : 810 mm

I want to get more details about the product
Company catalogues - Maschinenfabrik Berthold Hermle AG
Product Overview Hermle AG (English)
12 pages
Automation Overview Hermle AG (English)
12 pages