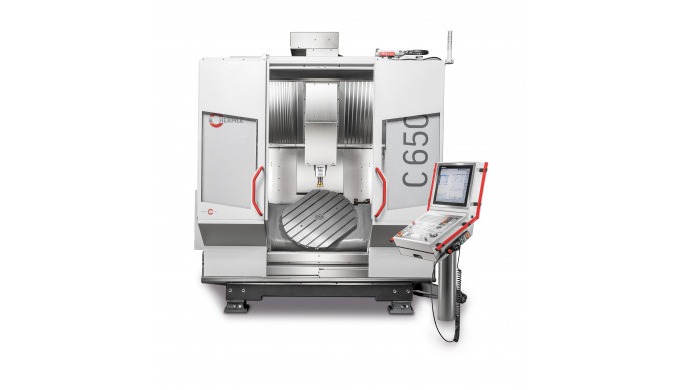 The C 650 uses a modification of Hermle's tried-and-tested gantry-type design, with a mineral-cast machine bed. The integrated, rigid clamping table can cope with workpieces up to a maximum of 3000 kg (1050 x 900 x 600 mm) in the 3-axis version, making it ideal for toolmaking, mould construction and machine construction. The swivelling rotary table
Description of the Product
The C 650 uses a modification of Hermle's tried-and-tested gantry-type design, with a mineral-cast machine bed. The integrated, rigid clamping table can cope with workpieces up to a maximum of 3000 kg (1050 x 900 x 600 mm) in the 3-axis version, making it ideal for toolmaking, mould construction and machine construction. The swivelling rotary table of the 5-axis version can accommodate workpieces up to 1500 kg (Ø 900 x 600 mm), allowing for highly precise machining.
The traverse path in the stainless-steel-clad working area comprises 1050 x 900 x 600 mm with a vertical table clearance of 775 mm and a door aperture of 1050 mm. Ideal parameters for simple and safe crane charging.
The C 650 has an integrated tool magazine for 42 tools. The control panel of the C 650 is also designed to swivel easily to the magazine loading location, so the operator can enter the tool data directly into the tool table in the control system.
Price of the Product
Price not indicated
Technical Details
Traverse X axis : 1050 mm
Traverse Y axis : 900 mm
Traverse Z axis : 600 mm
Rapid linear traverses X-Y-Z : 35 - 35 - 35 m/min
Linear acceleration X-Y-Z : 6 m/s²
Linear feed force X-Y-Z : 7000 N
Max. vertical table clearance : 775 mm
Max. workpiece diameter : Ø 900 mm
Max. workpiece height : 600 mm
Collision circle(A axis) in 0° pos. : Ø 1100 mm

I want to get more details about the product
Company catalogues - Maschinenfabrik Berthold Hermle AG
Product Overview Hermle AG (English)
12 pages
Automation Overview Hermle AG (English)
12 pages