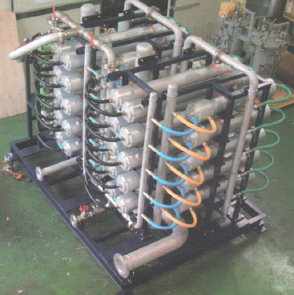 A number of gas elements are generated from food waste and livestock excretions, but as most of them are methane and carbon dioxide, they can be supplied to long distance after separation process, and the gas can be used for power generation, furnace, business fuel, vehicles, city gas, etc. Membrane separation process, one of the processes for sepa
Description of the Product
A number of gas elements are generated from food waste and livestock excretions, but as most of them are methane and carbon dioxide, they can be supplied to long distance after separation process, and the gas can be used for power generation, furnace, business fuel, vehicles, city gas, etc. Membrane separation process, one of the processes for separation of bio-methane, uses separation membrane to selectively flow specific substances through and separate gas, which uses polymer membrane is commonly used for removal of carbon dioxide in biogas. Airrane Co., Ltd. is developing membrane module and process using hollow fiber which can purify bio-methane to high purity.
Price of the Product
Price not indicated
Technical Details
Bio-methane can be used for energy production, vehicle fuel, insertion to natural gas pipelines, other industrial purposes, and it is receiving more and more attention as an eco-friendly energy source because the substance is same as natural gas from fossil.
Airrane Co., Ltd. researches on purification technology to remove moisture, hydrogen sulfide, and siloxane from biogas, mixture of methane and carbon dioxide, and separate methane from carbon dioxide to extract methane with about 98% concentration.
Category of the Product