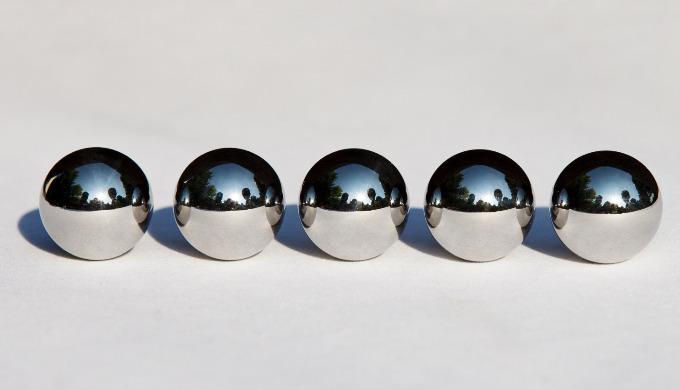 Steel balls

Assortment: We supply balls made of bearing, carbon and stainless steel, in the standard diameter range 3.00-200.00 mm. Accuracy class G10 - G1000.
Application: Can be used as:
• balls for rolling and ceramic bearings
• furniture slides (drawers, tables)
Description of the Product
Steel balls

Assortment: We supply balls made of bearing, carbon and stainless steel, in the standard diameter range 3.00-200.00 mm. Accuracy class G10 - G1000.
Application: Can be used as:
• balls for rolling and ceramic bearings
• furniture slides (drawers, tables)
• aerosol packaging (paints, varnishes, lubricants)
• cosmetics packaging (hair sprays, nail polishes)
• turntable for vehicles (semi-trailers, trailers, cranes, cranes)
• balls for ball mills
• balls for roll-on cosmetics
Feature: reduction of frictional resistance in bearings, comminution and grinding of materials in ball mills, mixing of varnish and paint in an aerosol.
Material: The balls are made of various materials:
– bearing steel [100Cr6; AISI 52100]
– carbon steel [AISI 1010, 1015]
– stainless steel [AISI 304, 304L, 316, 316L, 420, 430]
– tool steel [AISI S2]
– ceramic materials [AL2O3, Si3N4, ZrO2]
Quality: The quality control of balls is based on the SPC statistical control, constant control of raw materials and the finished product in accordance with ISO 9001 and IATF16949 norms. We have been supplying balls to the European market for over 10 years. Our regular customers confirm high quality and appreciate constant cooperation.
Product ready for delivery
Price and payment
Price on request
Characteristics of the Product
Type

Stahlkugeln

Dimension

3-200 mm
Category of the Product
I want to get more details about the product
Company catalogues - GUMET SZ.GENEJA, KOZŁOWSKA, LATOS SP. J.